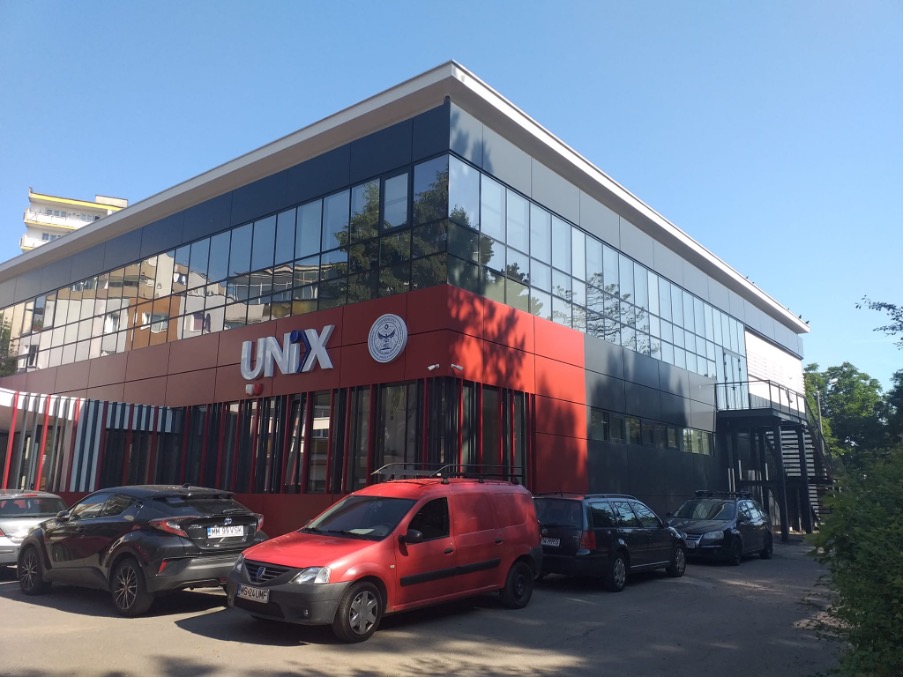 The largest medical institution in Romania
The UMFST of Targu Mures, with its more than 11,000 students, is not only the largest, but also the most research-intensive medical institution of higher education in Romania. The University contributes significantly to the further development of evidence-based medicine. With the help of new technologies and diagnostic and therapeutic methods developed by the university's research groups, health risk factors can be identified at an early stage and the treatment of those affected can be continuously improved. Alongside high-quality teaching, research activities represent a core area of the University' s activities.
The medical field comprises three faculties: the Faculty of Human Medicine, the Faculty of Dentistry, and the Faculty of Pharmacy. Due to the international orientation of the university and the multicultural region, various bachelor, master, and doctoral programs are offered in Romanian, English, and Hungarian.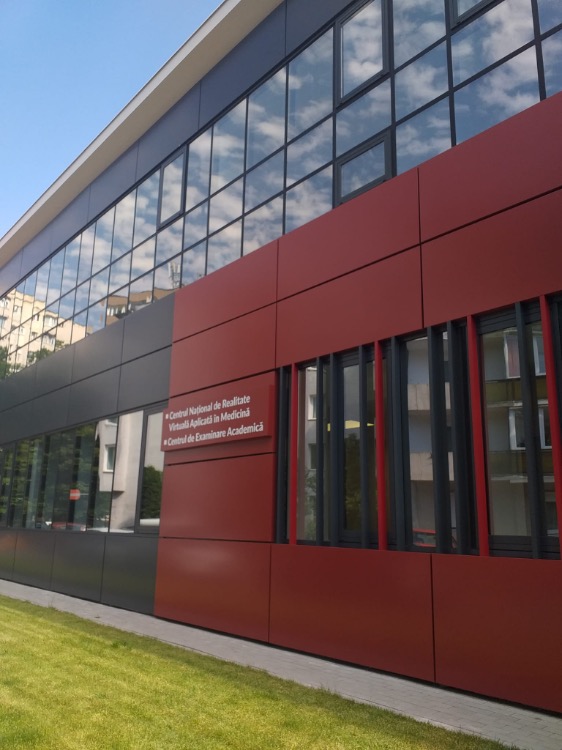 Designing a top examination centre for students
This prestigious university had the need to provide a top examination centre.
The end user contacted Mansart Corporate: A Romanian design firm who oversaw developing a digital examination center integrated with the design of the furniture following all the requirements of the University.
Students would use a touch screen monitor during the exams. The monitor needed to be foldable to optimize the desk space and make it more versatile. Furthermore, a privacy filter was required to limit the horizontal viewing angle of the monitor to preserve students' privacy.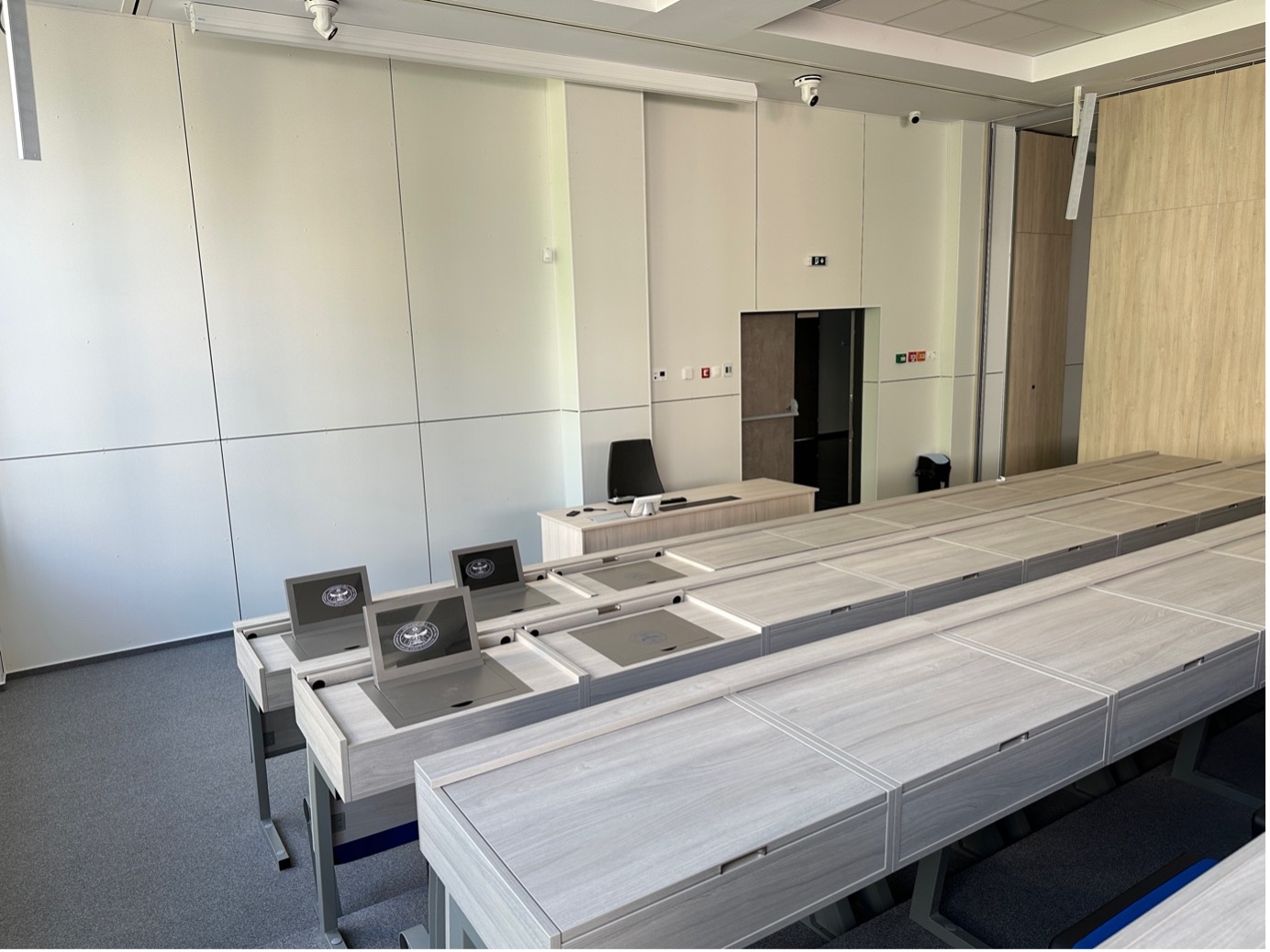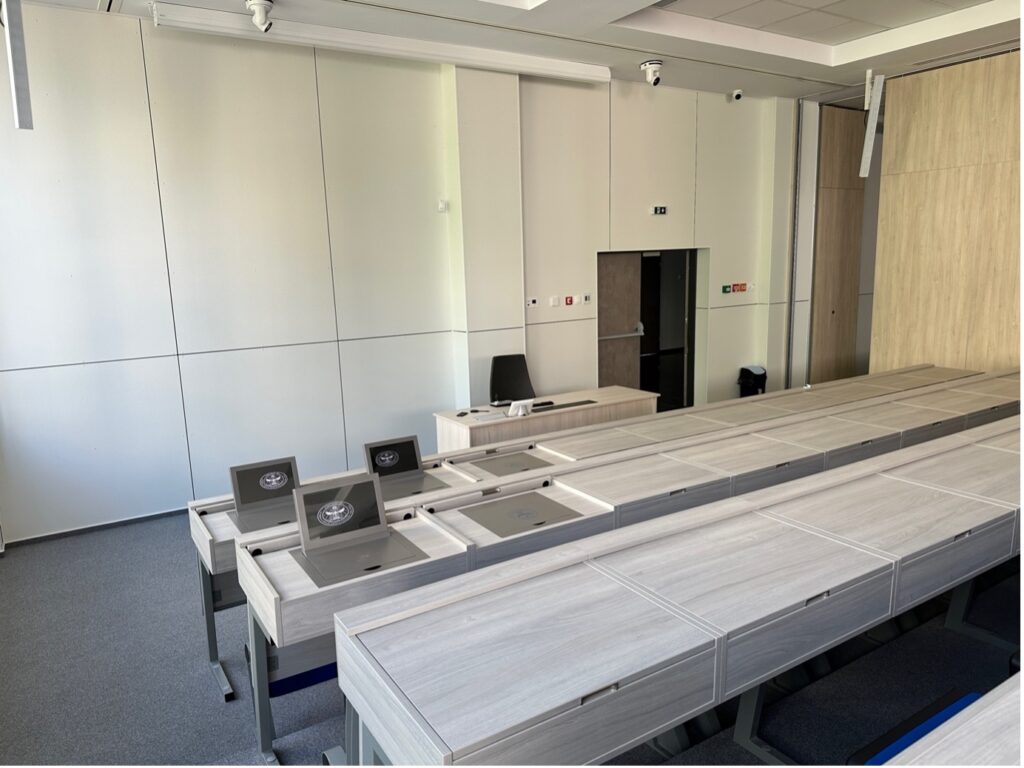 The result: a manual folding 12 inches touch monitor with privacy filter
This is where Mansart Corporate and Albiral started its cooperation that resulted in a 12 inches touch screen, manual folding monitor, that could be embedded in a wooden furniture. The monitor provided a synchronized internal tray, so when it was open covered remained levelled with writing desk. The monitor was personalized with the logo of the university at the back.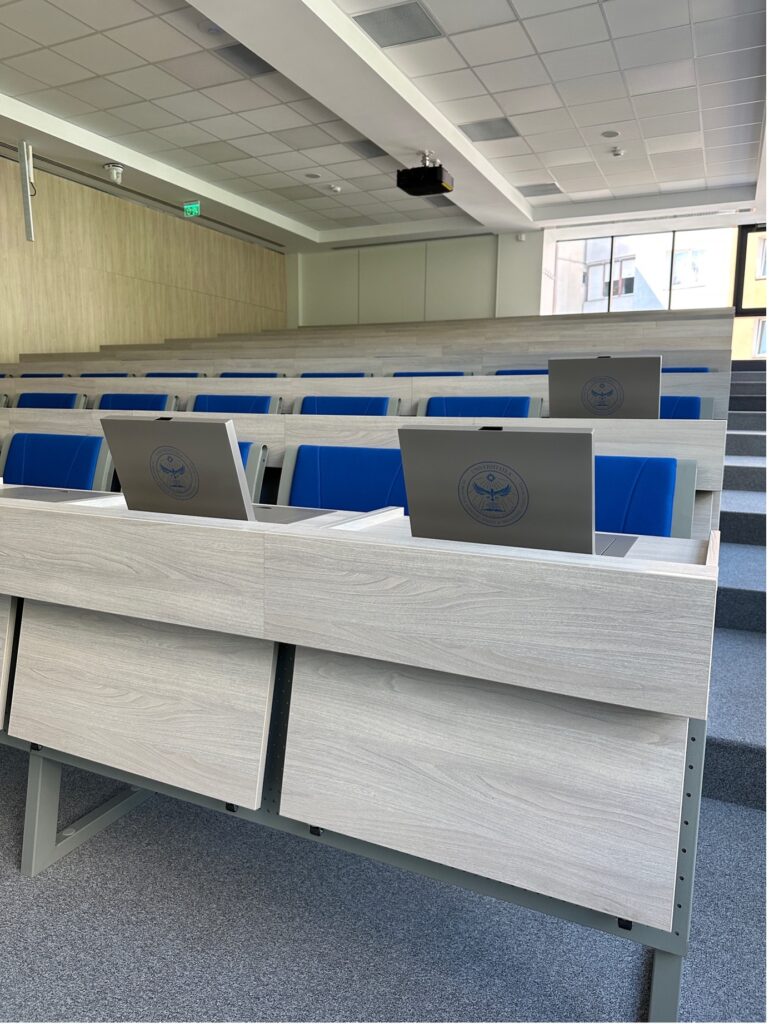 Mansart specifically defined the end user needs and Albiral developed a monitor to respond to these specific requirements: space optimization, maintenance free, easy to instal, HDCP compliant, touch with privacy filter.
More than 400 monitors were delivered for this examination centre.
The monitors are built in powder coated steel and the screen rises and leans manually being folded inside the desk with the screen facing down. They provide a 50.000-hour industrial panel, 2 DVI-HDCP compliant inputs, touch screen and a privacy filter.
The RAL was chosen by the end user and a logo was added at the back of the monitors.
An example of real cooperation between the design company Mansart and Albiral!
About Mansart:
Mansart is a Romanian company specialized in design and engineering projects for the medical field. The company designs hospitals and have coordinated design teams for prestigious medical centres.
http://www.mansartcorporate.ro
About Albiral:
Albiral is a company specialized in the design and manufacture of custom-made video and audio solutions for professional applications.