An impressive circular table now presides in the cabinet ministers' building in Cairo. This table is made from smart two-tone wood and features a staggering one hundred 17.3" Albiral motorised monitors, all finished in a stylish matt black.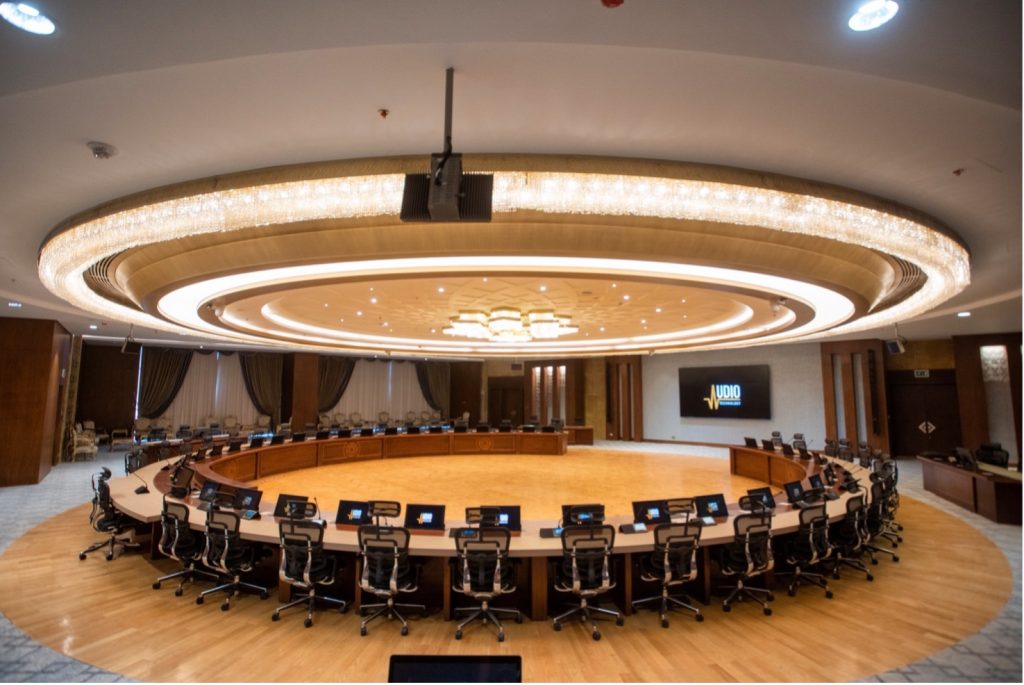 Our partner Audio Technology, an innovative and dynamic audio-visual systems integrator who specialise in the integrated management of mega-projects (including engineering, planning, sourcing, installation and after-sales service), has just completed installation of the cabinet building's main hall in the new administrative capital of Cairo.
The project consisted of one hundred units of Albiral retractable monitors and was enhanced with an ultra-slim Videowall from Phillips, and one hundred portable Audio Conference units from Shure. Not forgetting the latest technology from JBL Intellivox with the Active Beam Shaping; adjustable line array speakers that maximise sound clarity for listeners.
The challenge
The Council of Ministers main hall, plus the additional conference room are required to host efficient and inspirational meetings, most importantly where eye contact between attendees was guaranteed, with clear views of multimedia presentations, and while retaining ergonomics and maximising space.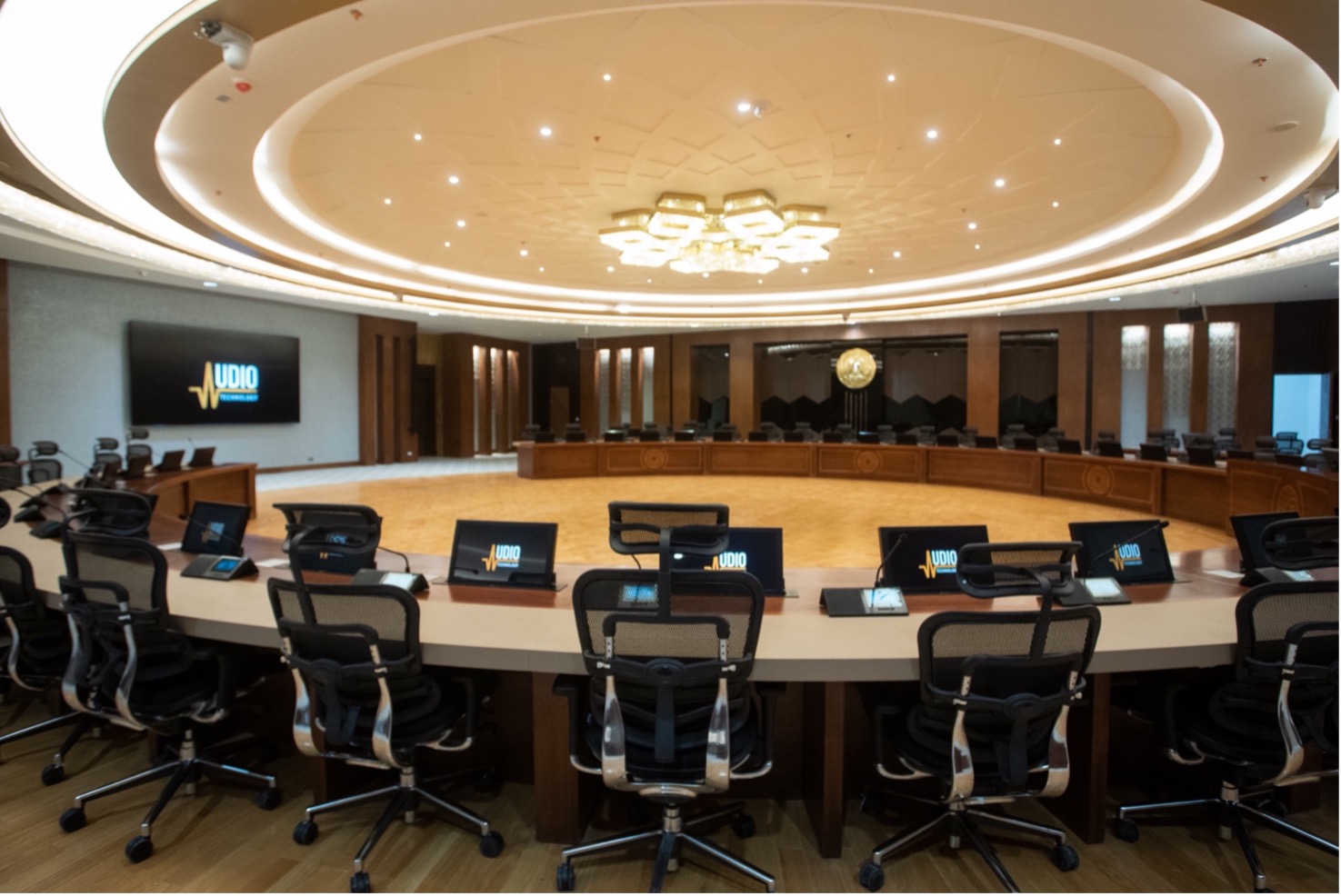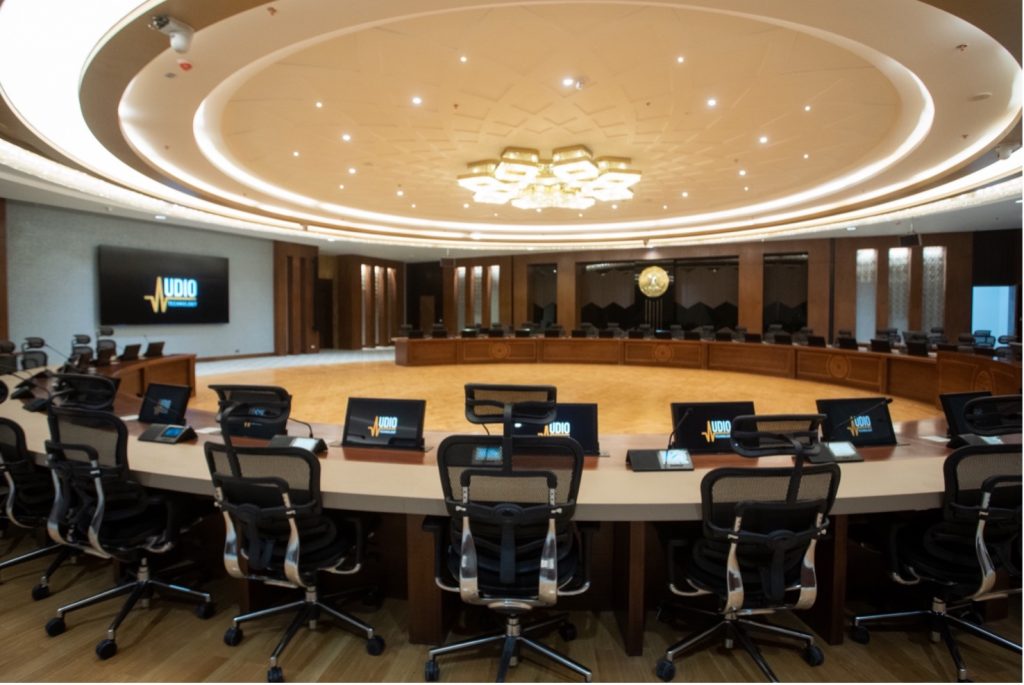 "A key project requirement was maintaining eye contact between the entire audience, which is crucial for smooth conversations, this was achieved by using Albiral retractable monitors," says Audio Technology.
In addition, the black finish of both the monitors and the desk top cover plates ensured a seamless integration with the rooms' interior design which combined hardwoods, dark tones and gold details, giving a subtle yet elegant technology that can be retracted into the furniture to ensure complete versatility.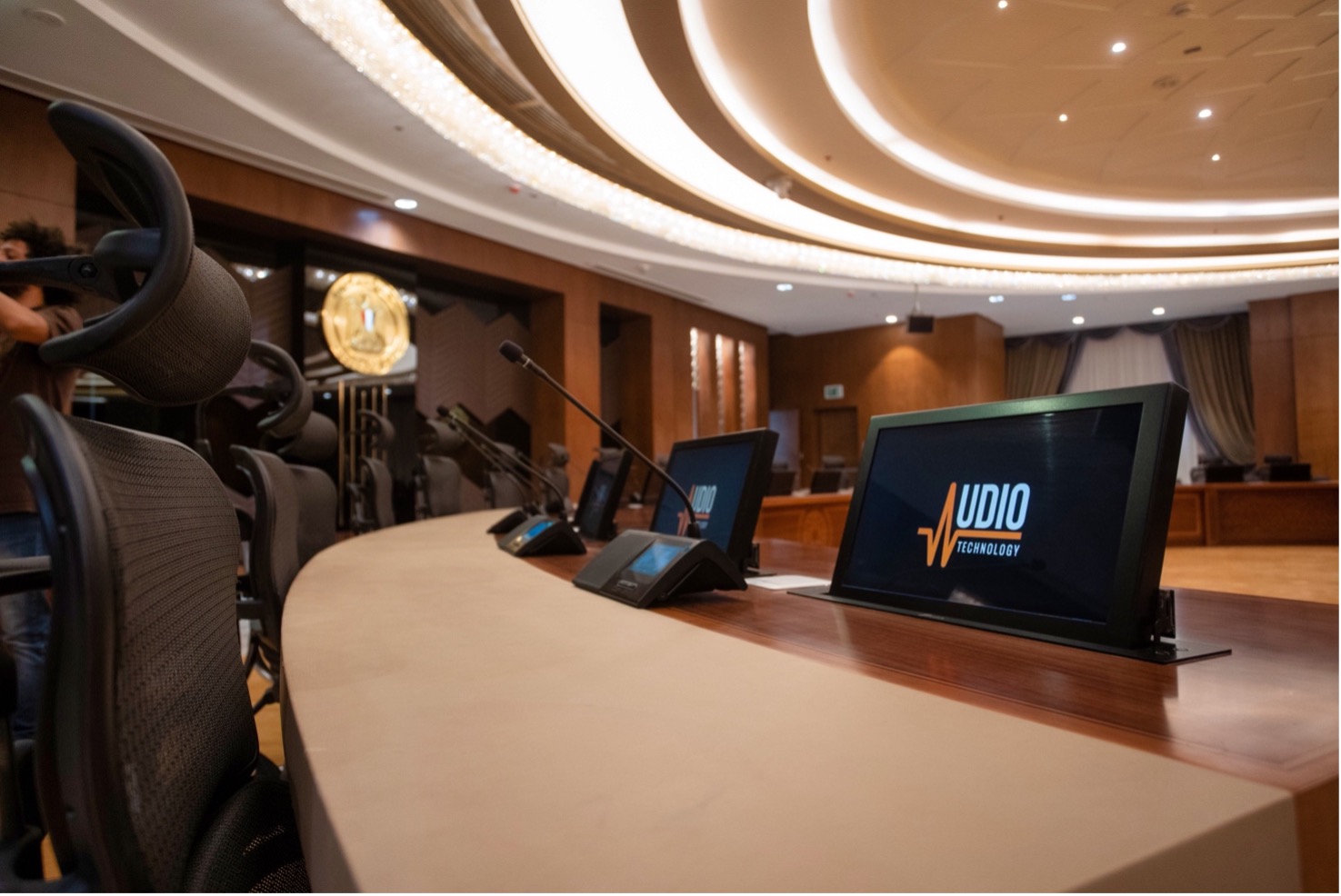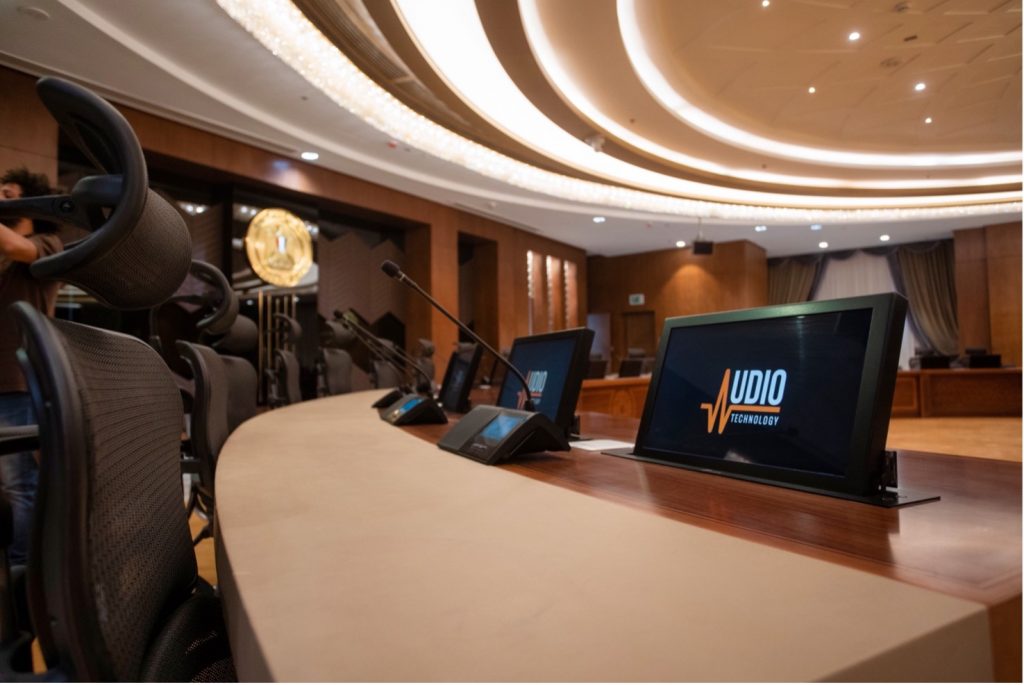 The client wanted a sturdy, elegant and reliable system. A system easy to use, with harmonious monitor movements, using high quality components, all adding to the overall reliability and longevity of the equipment. These were very important deciding factors in this project.
The solution
Audio Technology – One of Egypt's leading audio-visual integrators – was finally chosen for the project and carefully considered the client requirements of quality, aesthetics and the necessary features when designing the rooms.
Audio Technolgy's solution focused on technology that would guarantee maximum human interaction to conduct inspiring meetings for the best decision making through the use of elegant, reliable retractable monitors which disappear inside the table when not needed. This promotes concentration, interaction and efficiency during the decision-making process and can enhance the furniture's versatility and flexibility. The decision was made to select the Albiral ALB17HDMR, a 17.3″ retractable monitor, together with Shure MXC640 4.3″ touch screen conference units.
The SMART Albiral monitors feature a patented single motorised lift and retract mechanism. This provides a smooth, silent, sturdy reliable elevation system. The monitors are built with industrial strength components, designed for long life and offer unique features such as wireless control and setting adjustability via AHlink and compatibility with the ERT interface.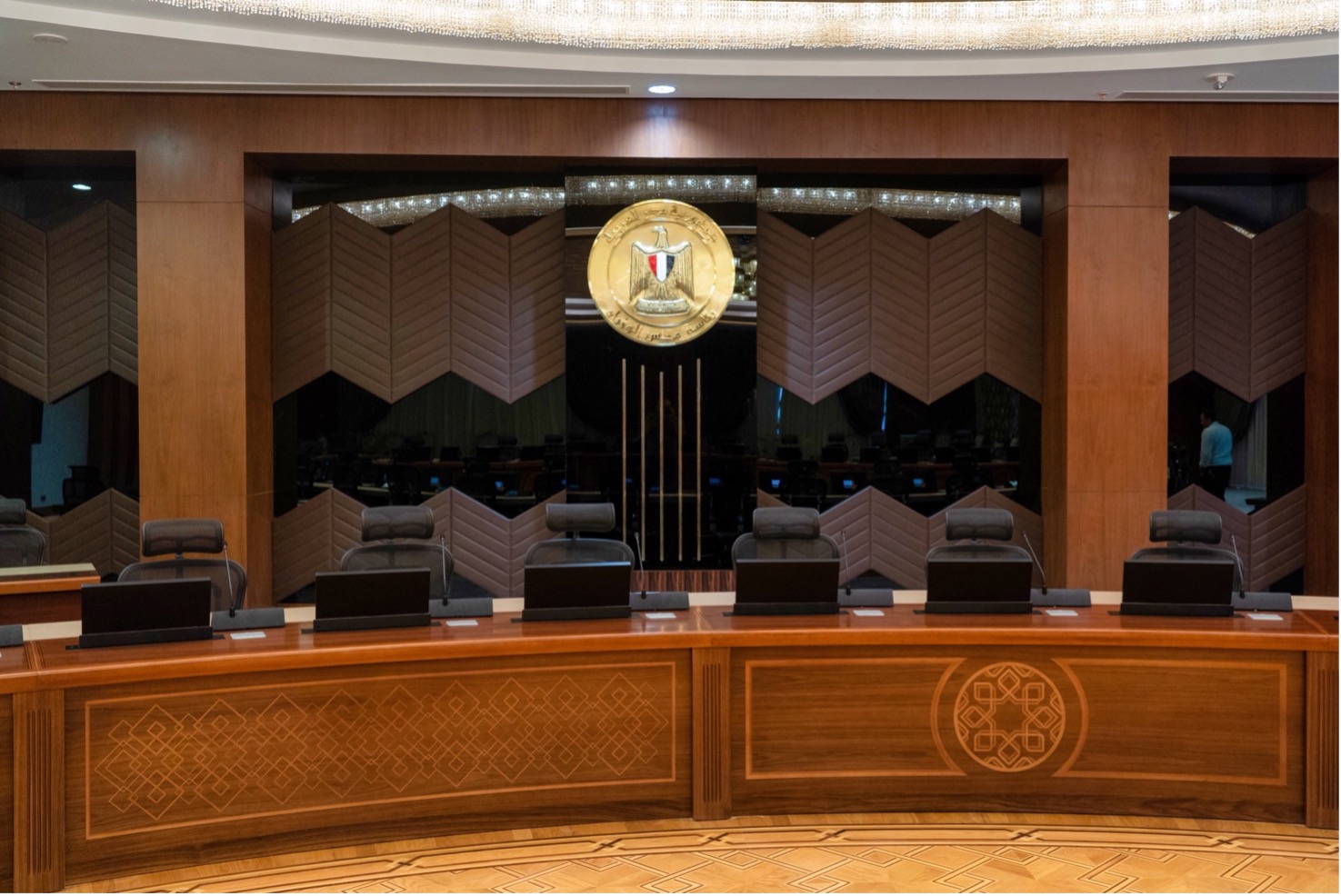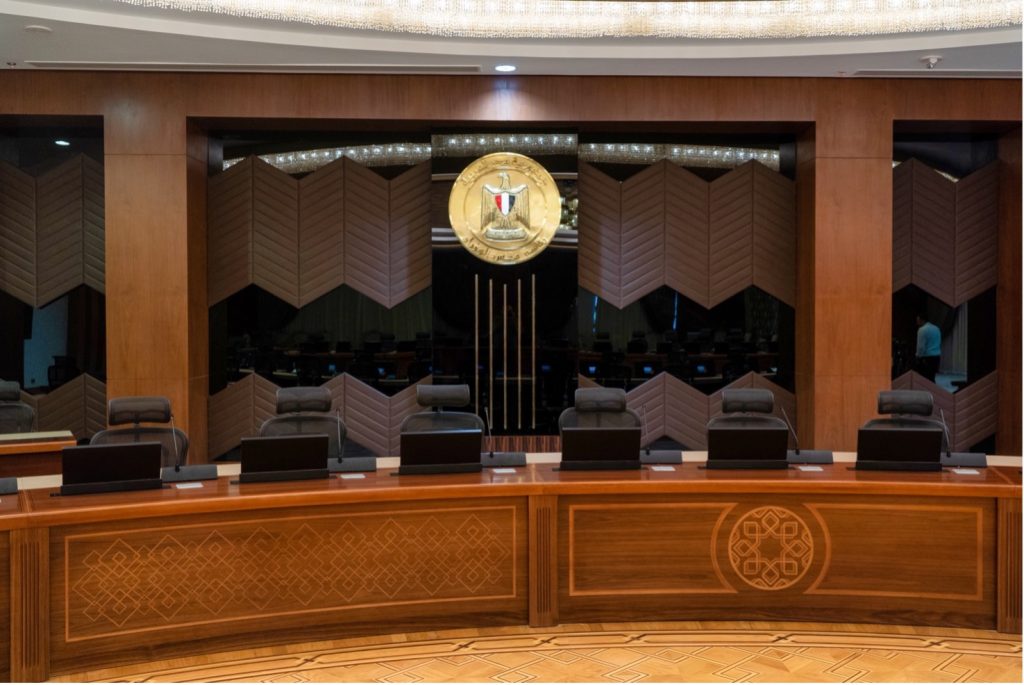 The ERT-60 integrates 2 AHnet ports (RS-422) that control up to 60 motorised units, (the ERT-30 with 1 AHnet port can control up to 30 units), with a USB service port interface for firmware updates.
The One-Touch Addressing System [OTAS] makes addressing easy. The ERT interface helps reduce installation costs for both external equipment and saves time. It is easy to install and configure. It provides quicker installation and eliminates any need for external relay boxes and additional sockets. Albiral's virtual on-site support is also optional, as long as an Internet connection is available.
AHlink wireless control is integrated into the ERT interface, giving easy direct access to the most commonly used settings via an app, and making commissioning and any further modifications or upgrades trouble-free.
This means you don't need to physically access the unit to configure or diagnose your installation.
"Choosing the product to suit the room's interior design and table, while also combining usability, elegance and durability was a real challenge," said Jacko Agaiby, head of the design team at Audio Technology.
About Audio Technology:
https://corporate.audioteceg.com

: Cairo's new ministerial cabinet building chooses Albiral retractable monitors