Professional monitors, microphones, cameras, and collaborative technology can enhance the way of working in court and judiciary rooms, which become more efficient and effective to fulfil the important task of decision making. Monitors serve two multiple purposes in the courtroom, as they are ideal to share documents, review evidence, hold video conferences or analyse multimedia presentations, helping to speed up all legal processes and reduce costs. Space optimisation and eye contact are also needed in courtrooms, so providing these rooms with unobtrusive technology is  definitely a must. With the best tools at their disposal, legal professionals can view perfectly video sources and documents with the maximum resolution and clarity. Security is also a required feature sought in monitors for court and justice rooms as well as robustness: the technology must be reliable, easy to service and have a long life span.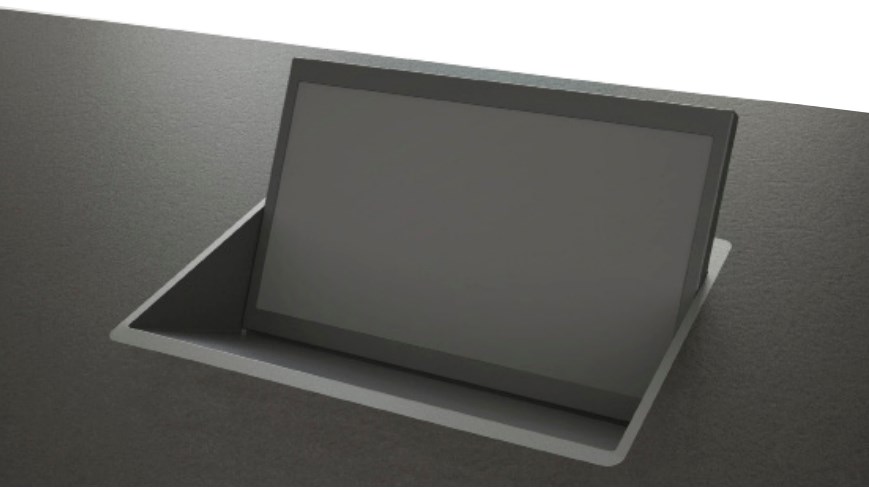 All these factors have been taken into consideration when designing the Albiral Interpreter Video Monitors. These are fixed built-in displays specially designed to support users with video contents when there is also a need to have a good view of the room. They offer a fixed tilt angle which is conceived to provide a direct line of vision straight to the action. The reduced height of the monitors allows to see eachother while using the screen, making it easier to develop a smooth, collaborative and participative meeting when working together.They are made of powder coated steel, resulting in a robust housing with a resistant finish and an elegant design.
Their 34º fixed tilt is an optimal viewing angle to work both watching the whole room and analysing data or presentations on the screen. As they are built-in into the table surface, space is optimised to the maximum and the visual field remains wide open to users.
https://www.albiral.com/wp-content/uploads/2021/08/22AIVM.pdf
For all these reasons, they have been chosen for the new Palace of Justice of Kuwait: the largest judicial building in the Middle East. The new Palace of Justice is located in a prime location in Kuwait City on a plot of 34,500sqm area. The new building has an area of 356,189sqm and with 141 courtrooms and offices spaces over 25 floors (3 basements + 22 floors and 1 technical).
Designed to be a "symbol of fairness and integrity" for Kuwait, the project will see the construction of a 25-story building with 141 courtrooms, as well as both automated and conventional parking for nearly 3,000 cars.